Lots of garages, both independent and dealer alike, hide what they do behind layers of jargon and techno-babble. Not so here. We firmly believe in honesty and transparency, and understand that many of our loyal customers would like to know a little more about the service they're receiving. Want to see what you're paying for? Then read on!
Jump to the service that you're most interested in:
Customer Facilities
Between our courtesy cars, collection service, and how close we are to town, most of our customers like to get their vehicles to us and then go enjoy their day safe in the knowledge that we'll take care of everything. Sometimes though, people choose to stick around – maybe it's a short job, their next appointment isn't for another hour, or they just want to spend more time with us. For those folks, we have a furnished waiting area specially for them.
Comfortable seating, fresh coffee, and a television (with optional remote MOT viewing), what more could you want? Well on top of that we've got free wifi, and customer toilets! Honestly, you might wish that it took us longer to work on your car, so that you can enjoy our facilities just a little longer.
Back to Top
Diagnostics
Most modern vehicles are controlled by on-board computers, so when something goes wrong we have a way of finding specifically what it is, and then fixing it. With our high-tech equipment, we can plug into these systems to accurately diagnose any faults in your car.
Unlike most independent garages, here at David Dexters we have access to manufacturer programming. This might not sound like much, but it means that we're able to replace and update your car's existing software just like a main dealer would.
If you want to learn a little more about some warning lights that might come up, you can read about them here.
Back to Top
MOT
It's important to keep your car operating at peak efficiency in order to keep it running reliably and safely. This is where MOT testing comes in.
Our certified MOT testers are fully trained to check cars (class IV) and commercial vehicles (class VII). Throw in our state-of-the-art, automated test lane, and you can rest assured that they'll look after your vehicle in an efficient, timely manner.
You can get your vehicle tested up to 28 days early, and still benefit from a full twelve months certification from its expiry date, giving you plenty of time to book it in around everything else. If you decide to get your vehicle tested outside of this window, maybe for selling it, it'll expire twelve months from the date of the test.
If you've used us before, you don't even need to worry about remembering the date of it yourself – we'll send you a reminder via email or text a couple of weeks before it's due.
Time to book yours in? Give us a call or book online here.
Back to Top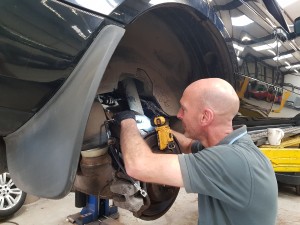 Servicing
Manufacturers recommend that you get your car serviced regularly, to keep everything running smoothly. Depending on its mileage, age, make, and a whole host of other factors, you'll want to have some different things included in a given service. It can be tough deciding on this by yourself, but our service team are specially trained to help you pick the best options for your car – give them a call and see for yourself.
To help you spread out the costs of servicing and predictable replacements, we offer customisable service plans. With these, you can simply decide what you'd like it to cover, (from just basic services, to brakes, cam belts, MOTs, and so much more), how long you want it to go on for, and we'll do the rest. For a single monthly fee, it's all looked after, and it's guaranteed to be at today's prices for the life of the plan so that the only sort of inflation you'll have to worry about is for your tyres!
We all lead busy lives, and we know better than most that it can be tough to go without your car. To help protect you from such troubles, we offer a vehicle collection & delivery service in the Bridgnorth area, and our team are always happy to give you a lift back home if necessary. On top of all that, we also have a beautiful fleet of courtesy cars in case your vehicle is expected to be in with us for a longer period of time.
Back to Top
Tyres
When everything's going to plan, your tyres are the only part of your car in contact with the road. Because of this, keeping them healthy is key to safe driving.
Every vehicle uses different sized tyres, but finding out what you need is as simple as typing your registration into our easy-to-use tyre booking form. From there, you can find the perfect tyre for your budget and vehicle usage. 
Back to Top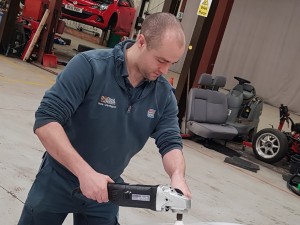 Valeting
Though not quite taught by Mister Miyagi, our team of Autoglym-trained valeters use only the best professional products to give every wash that extra bit of sparkle.
With three different standards, we have the perfect option whatever your needs. Simply book your car in with us and it'll come away glistening.
We also take care of campervans, however the cost varies on these due to the different sizes and conditions seen. Why not give us a call to discuss it with our friendly service staff?
Back to Top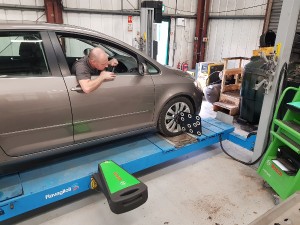 Wheel Alignment
There's more to a car's wheels than just fitting the right sized tyre – the angles at which they're fitted compared to the rest of the vehicle makes a difference to both how well and how safely it drives. That's where alignment comes in! Whether you choose a traditional tracking adjustment, or our high-tech 3D wheel alignment ramp, we can ensure your wheels are fitted perfectly, making your drive smoother and your tyres last longer.